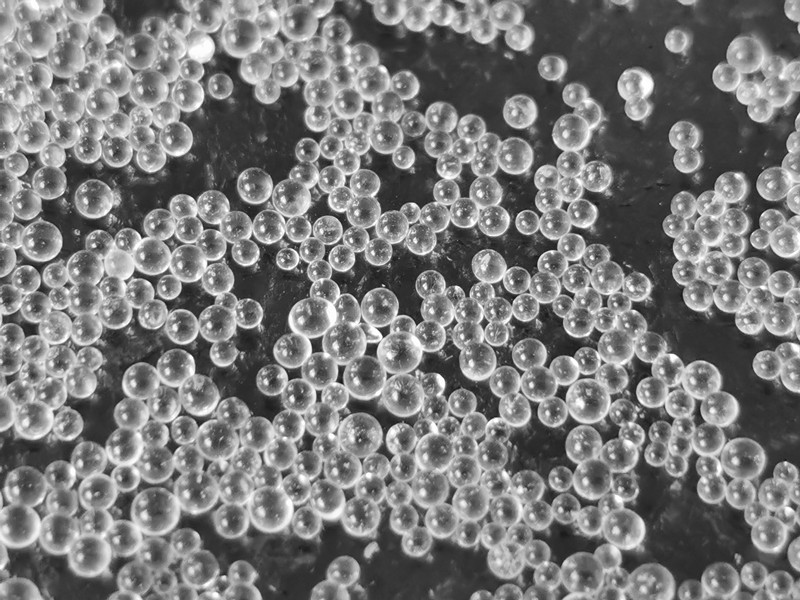 Glass beads for sandblasting
喷砂专用玻璃珠是专门用于喷砂的玻璃微珠。
Sandblasting special glass bead is a kind of glass bead specially used for sandblasting.
一、喷丸玻璃微珠产品用途
1、 Application of shot peening glass beads
1、不锈钢制品的表面亚光处理
1. Surface Matt treatment of stainless steel products
2、用于各种模具的清理
2. Used for cleaning various moulds
3、可清除各类机件拉应力,增加疲劳寿命
3. It can remove the tensile stress of various parts and increase the fatigue life
4、半导体器件、塑封对管上锡前的清理去除边刺
4. Cleaning and removing edge burrs before tin coating on semiconductor devices and plastic packaging tubes
5、医疗器械、纺织机械及各类五金制品的喷丸强化光饰加工
5. Shot peening for medical equipment, textile machinery and various hardware products
6、各种金属管、有色金属精密铸件的清理及去除毛刺残渣
6. Cleaning and deburring residue of various metal pipes and non-ferrous metal precision castings
二、喷丸玻璃微珠产品特性:
2、 Characteristics of shot peened glass beads:
1、软硬兼备—采用优质材料生产而成,即有一定的机械强度,sio2 含量大于等于68﹪,硬度可达6-7莫氏,又有足够的弹性,可反复使用数次,不易破碎,所喷器件效果相同,比普通玻璃珠的使用寿命长3倍以上。
1. It is made of high-quality materials with certain mechanical strength, SiO2 content of 68 ‰, hardness of 6-7 Mohs, and enough elasticity. It can be used repeatedly for several times, and is not easy to be broken. The spraying device has the same effect, and its service life is more than 3 times longer than ordinary glass beads.
2、均匀度好—成圆率大于等于80﹪,粒度均匀,喷后使喷砂器件各处亮度系数保持均匀,不易留下水印。
2. Good uniformity - the roundness rate is greater than or equal to 80%, and the particle size is uniform. After spraying, the brightness coefficient of sandblasting device is kept uniform, and it is not easy to leave watermark.
3、不可替代—喷丸玻璃珠作为一种研磨材料比其他任何研磨材质具有以下优越性:除了金属研磨材料外,比其他任何介质使用时间长,用非碱性钠钙玻璃材料制成,具有良好的化学稳定性,不会污染加工的金属 ,可加速清理,同时保持原物件的加工精度
3. Irreplaceable - as an abrasive material, shot peening glass bead has the following advantages over any other grinding material: in addition to metal abrasive material, it has a longer service life than any other medium. It is made of non alkaline sodium calcium glass material, has good chemical stability, will not stain the processed metal, can accelerate cleaning, and maintain the processing accuracy of the original object
4、光滑无杂质—外观为球状颗粒,无杂质;表面光滑,具有良好的光洁度,达到国际、国内标准水平
4. Smooth without impurities - the appearance is spherical particles, without impurities; the surface is smooth, with good finish, reaching the international and domestic standards
三、产品技术指标:
3、 Technical index of the product:
1、化学成份:SiO2 >67%,CaO>8.0% MgO>2.5% Na2O0.15其他2.0%
1. Chemical composition: SiO2 > 67%, Cao > 8.0% MgO > 2.5% na2o0.15, other 2.0%
2、比重:2.4-2.6克/立方厘米 堆积密度:1.5克/立方厘米 莫氏硬度:6-7莫氏 洛氏硬度:48-52 HRC 外观:光洁、圆整、玻璃透明无杂质 成圆率:≥85%以上
2. Specific gravity: 2.4-2.6 g / cm3 bulk density: 1.5 g / cm3 Mohs hardness: 6-7 Mohs Rockwell hardness: 48-52 HRC appearance: smooth, round, transparent glass, no impurities, roundness: ≥ 85%
3、磁性粒子不超过产品重量的0.1%
3. Magnetic particles do not exceed 0.1% of product weight
4、玻璃珠珠体内气泡含量低于10%
4. The bubble content in glass beads is less than 10%
5、不含有任何硅树脂类成份
5. It does not contain any silicone resin